People For Puget Sound has a new documentary called Sound and Vision.  They are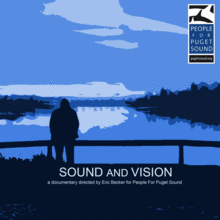 inviting communities to host screenings of the movie.  This is a great way to introduce your community to the issues impacting Puget Sound.
Excerpt from the People For Puget Sound website:
"Sound and Vision, a film in eight parts, explores issues facing the near shore environment. It is a film about the oceans, told through the stories of people working to clean up, protect, and restore habitat in Puget Sound and beyond." Learn more!