Yesterday Sustainable West Seattle announced their 2012 Sustainable Hero Award at their Annual Picnic.  I was very honored to be selected as the hero for our work educating our community about how to reduce polluted runoff with our Don't Feed the Tox-Ick Monster campaign.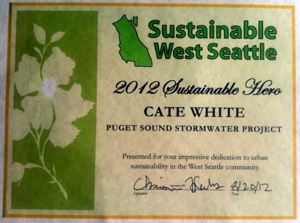 In winning the award, I reflected on all the amazing volunteers who have helped advance our outreach efforts.  Among them, Steve Richmond, Kimberly Leeper, Laura James, Norma Tompkins, Liz Dunigan, James Day, Bryan Fiedorczyk, and Katie Humphries all helped craft our message and get the word out before hundreds of audience members.  To date, we've given our presentation at 8 venues before more than 300 audience members.  In addition to that, we've had 6,700 page views on our website, more than a third of which have been unique visitors.  Furthermore, the generous press coverage we've had through local news sources like the West Seattle Blog, the West Seattle Herald , and CBS Radio has amplified our message to thousands more.
If you know of a venue at a church, synagogue, school, Rotary Club, or other place of gathering and would like to schedule a presentation, send us a note at cate@tox-ick.org.  We've got a Spanish version of the presentation too.  Working together we can transform the region's awareness so that all citizens of Puget Sound are empowered to make choices that protect our valued waters, and the amazing wildlife that call her home.
Thanks for caring!
Cate White