By taking 60 seconds today to vote for Laura James as a conservation hero, you can help SWS win $10,000 towards its Don't Feed the Tox-Ick Monster campaign.
Please visit http://www.kirotv.com/s/heroes/ and vote for Laura James
Votes will be accepted June 18 – July 16, 2012.  So, please, encourage all your friends to vote too!
The Cox Conservation Hero Award, organized by KIRO 7 Eyewitness News and The Trust for Public Land, has nominated Laura as a conservation hero for her efforts to restore Puget Sound.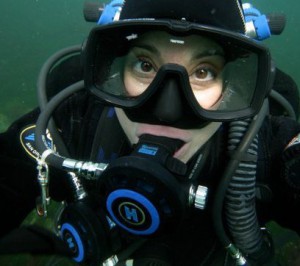 This past year, Laura organized a diving team that removed over 1,000 lbs of discarded marine and automotive batteries from a West Seattle scuba diving site. It is for this effort that she was honored with the hero nomination.
Laura was drawn to diving by Puget Sound's incredible abundance of life and profound diversity of habitat. However, what she has found below the beautiful surface of Puget Sound is a battle for survival going on just beyond the shoreline. It is a battle between the creatures that call it home and a massive influx of debris and pollutants that come from our roadsides, our storm drains, and our beaches.
The exciting part is that if Laura wins the award as much as $10,000 will be donated to the nonprofit of her choice. Laura has selected Sustainable West Seattle for their Don't Feed the Tox-Ick Monster program. It's a program that educates community members about how harmful things like batteries and other debris can be to our marine ecosystems. Even more importantly, it also empowers people to make choices that protect the waters that give us recreation, inspiration, and livelihood.
For this to happen, we need your vote! Select Laura James on the KIRO Cox Conserves Hero website:
http://www.kirotv.com/s/heroes/
Remember, voting can occur June 18 – July 16th, so please get your friends to vote during this window too!
Thank you, for being part of the solution! Together, many people taking small steps over time can develop into a formidable force that can conquer seemingly overwhelming problems, like Tox-Ick Monsters.
Thank you!