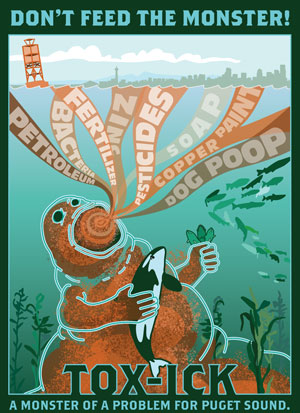 Sustainable West Seattle puts challenge to community  
$1,000 donation to Pathfinder K-8 School's Earth Project at stake
WEST SEATTLE — Help Pathfinder K-8 School win $1,000 toward a rainwater harvesting system for its Earth Project!
Sustainable West Seattle will be giving its "Don't Feed the Tox-Ick Monster" presentation at Pathfinder K-8 School Monday, Oct. 10 from 7-8 p.m. and is challenging Pathfinder to bring a crowd.
The challenge: If 40 or more adults show up to learn about protecting Puget Sound, then Sustainable West Seattle will donate $1,000 toward the school's Earth Project. To help encourage turnout even further, free pizza will be provided. Pathfinder K-8 School is located at 1901 SW Genesee St.

Pathfinder K-8 School's Earth Project aims to "empower students to discover their connections to the Earth, themselves, and one another" and is a collaboration between Pathfinder and the Nature Consortium — a nonprofit organization also based in West Seattle.
The School Garden is the most significant part of the Earth Project and has become an integral component of many of Pathfinder's classrooms.  The garden affords opportunities to teach students about natural resources and healthy food. The rainwater harvesting system will help teachers educate students about the importance of conservation and the water cycle.
"This is a great opportunity to advance the school's efforts to teach students about healthy foods and ecology," said Bill Reiswig, parent of a Pathfinder student and a founder of Sustainable West Seattle. "All people have to do is show up for an hour and the school will get a gift toward a rainwater harvesting system. We're trying hard to get the word out so that 40-plus adult community members show up."
All West Seattle community members are invited to attend the hour-long event and enjoy free pizza. Sustainable West Seattle's presentation will focus on actions each of us can commit to that help protect and restore Puget Sound. Audience members will learn about things like natural yard care, water retention systems, community volunteer opportunities, and more.  To learn more about the project, visit tox-ick.org.
About Sustainable West Seattle
Sustainable West Seattle is a nonprofit 501(c)(3) organization that educates and advocates for urban sustainability in our local community.
SOURCES: http://www.tox-ick.org         http://www.sustainablewestseattle.org
###
Contact: Cate White
cate@sustainablewestseattle.org  |  (646) 957-6225